Brief Overview of Hokkaido
Back in the days, when this land was just named Hokkaido,
many pioneers left their homes and crossed the sea into this uncharted territory to begin a new life.
Our Hokkaido Miso is unique in its honest and refined flavor that is derived
from the natural water of the beautiful natural surroundings
Basic information on Hokkaido
Back in the days, when this land was just named Hokkaido, many pioneers left their homes and crossed the sea into this uncharted territory to begin a new life. Throughout the harsh winter cold where hope and despair went hand in hand every day, miso soup was a staple dish supporting many households of the poor.
But in order to offer quality miso in the cold Hokkaido climate, the master brewers labored long and hard to develop a miso brewing method suited for this region. Our Hokkaido Miso is unique in its honest and refined flavor that is derived from the natural water of the beautiful natural surroundings
1. The History of Hokkaido
The history of human settlement in this region can be traced back to ancient times, with many confirmed artifacts and ruins from the paleolithic era.
A unique culture, separate from the general history of Japan, developed in Hokkaido where the hunter-gatherer society continued long after agriculture became prevalent in the mainland, and it was later prolonged into the post-Jomon, the Okhotsk and Satsumon cultures, which then transitioned into the Ainu culture.
After the Meiji Restoration and the extensive development period, the traditional culture of the Ainu people intertwined with the culture prevalent in various regions of Japan, which resulted in the development of this unique and unparalleled region of Japan.
2. The Natural Environment of Hokkaido
Located in the northernmost part of Japan, almost the entire area of Hokkaido is within the subarctic climate zone. Such locality contributes to distinct changes of seasons, which showcase various colorful and diverse aspects of the four seasons.
After enduring the cold, hard winter season under snow, the flowers all blossom in time of fresh greenery in spring. The refreshing summer turns the vast lands into the perfect purple color of lavender. The vibrant harvest of the fall, when the salmon comes home and the trees and mountains all turn red and yellow before anywhere else in Japan. And winter, when the pure white snow landscapes and fantastic diamond dust symbolizing Hokkaido enable various winter sporting activities.
Furthermore, with the registration of Shiretoko Region as a World Natural Heritage Site, Hokkaido is home to many national and quasi-national parks, as it is as well a place which supports diversity with the abundance of wild animals and rare plants within its natural environment.

3. Location of Hokkaido
Yuzhno-Sakhalinsk / Vladivostok / Busan / Seoul / Daegu / Beijing / Tianjin / Shanghai / Hangzhou / Nanjing / Cheongju / Hong Kong / Taipei / Kaohsiung / Honolulu /Bangkok / Kuala Lumpur / Singapore / Manila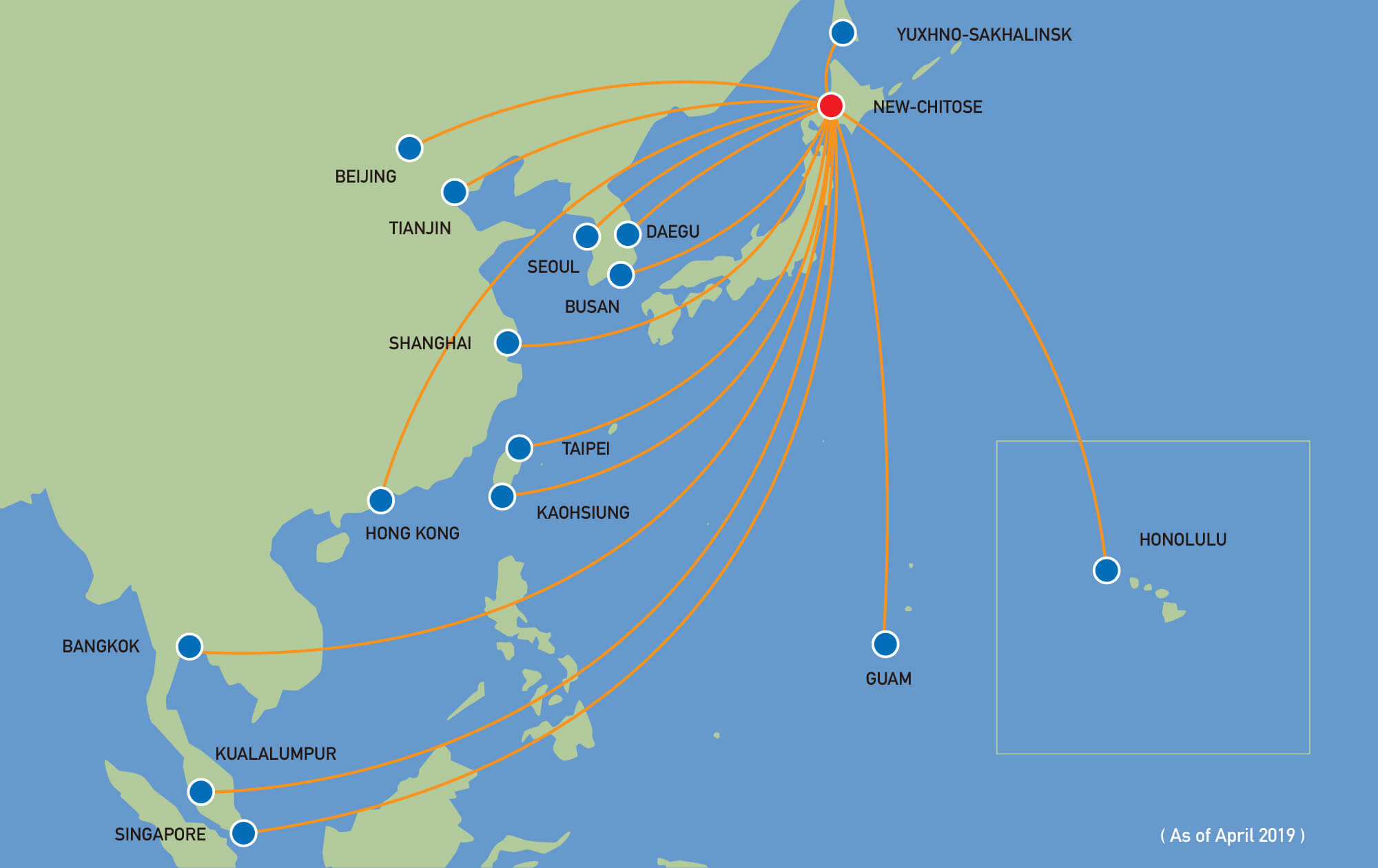 Back to top